Sailor 900 VSAT Antenna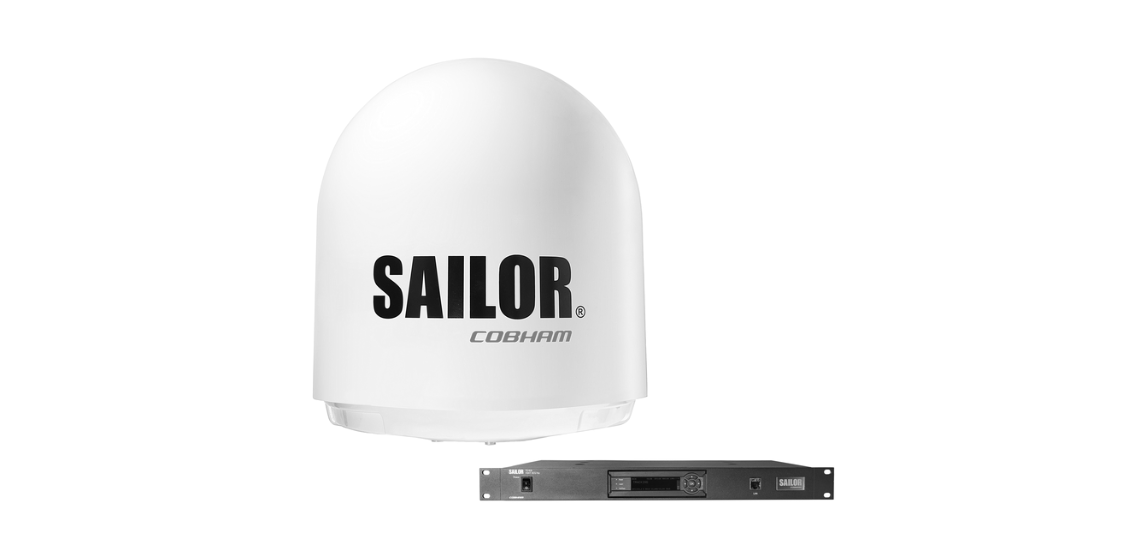 Cobham Sailor excels at delivering well-engineered and easy to use stabilised satellite antennas. In this sense you could describe the Sailor 900 as the Apple iPhone of maritime VSAT. Uniquely, the Sailor 900 only requires a single coaxial cable between above and below decks making it easy to install. Sailor 900 is widely acknowledged to be the de-facto standard in 1m ship VSATs available in the market today.
The system is available in Ku, Ku-high power, and Ka band variants and can be upgraded to operate on Inmarsat's Global Express network. Sailor 900 is also type-approved for Eutelsat and supports iDirect, Gilat and STM modem protocols for automatic beam switching.
A Top Performer
Sailor 900 VSAT is an easy and quick to deploy three axis stabilized VSAT antenna with the highest RF performance in the 1m antenna class. Verified by extensive Eutelsat tests, you can trust that Sailor 900 VSAT works with all leading VSAT platforms.
Reduced Cost
Every Sailor 900 VSAT antenna system comes factory-tested, equipped ready-to-go with standardized top quality RF components (8W BUC, LNBs, OMT/diplexer) - and only one cable between antenna and the below-decks unit. The antenna is shipped fully balanced, configured and requires no work prior to installation. This represents a time and cost saving, plus the top RF performance make Sailor 900 VSAT the most cost effective Ku-band antenna on the market to deploy.
Increase up Time
The decision to install VSAT on a ship stems from the desire to have always-on broadband connectivity at a simple flat rate fee. These networks are readily available from many providers. Regardless of how and where you operate the Sailor 900 VSAT, you can be confident of maximum availability because the system has several simple features to make sure your broadband connection is up, and stays up.
Two Antennas - One Modem
Sailor 900 VSAT can operate two antenna systems on a single modem without the need for an extra box to manage that feature. This requirement arises when the vessel needs a satellite connection even when there are obstructions in the way. The two Sailor antenna controllers manage the connection between satellite and modem.
More Flexibility
During the coming years, new high throughput satellites (HTS) will come online. Most of the new HTS will operate on Ka-bands. The Sailor 900 VSAT is prepared for a possible conversion from Ku to Ka band operation. The result is thoroughly updated electronics, and both a reflector, dish and radome which are already tuned for both Ku and Ka bands.