Offshore Supply Vessel Communications
An OSV transferring cargo
In the offshore industry, when communications links go down they have to be restored quickly. This often means dispatching a technician by helicopter to the facility or, in the case of an Offshore Supply Vessel (OSV), waiting for the boat to make it's next port visit. This leads to delays measured in days in many cases.
The Solution
A standard Sea Tel 5009 VSAT system is used aboard the OSV as the primary high-bandwidth bearer, carrying all of the vessel's normal network and telephone communications. If the primary system goes down, shore based technicians are alerted and can quickly access on-board communications equipment remotely. This includes the primary antenna controller, router and UPS. Shore-based technicians can restore communications in minutes, increasing overall uptime, reducing delays and eliminating the need for a costly service visit in most cases.
This is acheived using the OBM (Out of Band Management) appliance and an additional Thrane Sailor 250 Fleet Broadband satellite terminal. A high quality, high reliability backup data connection is therefore provided for the shore-based technician as well as an essential backup communications capability for key ship's staff if required.
The combination of the VSAT, Fleet Broadband and OBM appliance, with skilled technicians on standby ashore increases system availability. While implementation of VSAT with OBM per vessel is more than that of a regular stand-alone VSAT system, the additional cost is small and not much more than the cost of a single communications failure and emergency technician visit. In most cases, the return on investment is realised rapidly.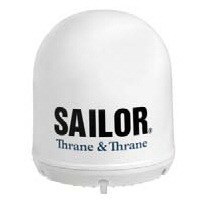 Compact, lightweight antenna with near-global coverage. Fully featured voice data and fax with data rates up to 284 kbps...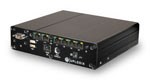 Acutec Virtual Technician allows remote access for our personnel resulting in improved reliability of communications and reduced maintenance costs...