Research Vessel Communications
Acutec were approached by Australian telco Telstra International to provide a satellite communications and IT solution for two research vessels engaged in a project that aimed to make a full-ocean depth manned submersible dive into the Mariana Trench in the Western Pacific.
The joint James Cameron, National Geographic and Rolex project required an extremely reliable live feed of high-definition video from the main dive-support boat Mermaid Sapphire to shore based-media networks, as well as two-way redundant voice and data communications prioritised for certain key users and devices on board.
The manned submersible Deepsea Challenger used an acoustic transponder system to triangulate from surface vessels to navigate. This required accurate realtime GPS correctional data updates from shore. It was important that the navigation system traffic was prioritised over the satellite link.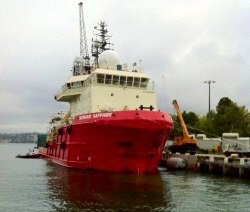 The Solution
To achieve the HD video feed a 4Mbps uplink data rate was necessary. Acutec provided a Sea Tel 9707 3.5m C-Band antenna system with 200W BUC and radome air conditioning.
For the two-way internet and voice services on both vessels, a Ku-Band Sea Tel 4010 was installed as the primary two-way link with a 2Mbps data rate. For redundancy on Mermaid Sapphire, a second modem was added to the C-Band system carrying a 512 kbps SCPC service.
To allow prioritisation and management of the bandwidth for the 70 personnel on board Mermaid Sapphire, an Acutec Gateway system was installed. This ensured that certain devices would have access to all the bandwidth they required on demand. In order, traffic from the sub navigation equipment then telephone traffic then key-personnel traffic was prioritised over the other users.
The Acutec Gateway also handled the automatic switchover from primary Ku to secondary C-Band bearers in the event that the former became degraded by blockage or rain-fade. The gateway maintained detailed logs of all the antenna and IT systems on board and facilitated full monitoring and control by Acutec operations in Sydney. Wireless and VoIP equipment on board formed the remainder of the complete project communications system.